Application Name
Fried Babelfish
Version
1.0.8 (updated 2009-02-09) (No longer works)
Short Description
tabbed translator
Supported OSes
Win-all
Download Link
FriedBabelfish.zip (325.53 KB - downloaded 22133 times.) This no longer works but I am keeping the download available due to the fact that the source is included and this part may still be of interest to someone.
System Requirements

A Windows based PC with some form of IE installed (not sure if it works with pre-IE5)

Version History
Current version:

1.0.8

+ Added 7 new languages:


Albanian
Estonian
Galician
Hungarian
Maltese
Thai
Turkish


Previous versions:

Author
Krishean (translation script) and app103 (GUI)
Description
When you are using online translators in your web browser, it's not that convenient to have to keep switching the languages back & forth to translate an ongoing conversation between 2 people. It is also kind of clunky to have a full browser window with toolbars and extensions getting in your way. And most browsers lack a feature to keep the window on top of all others.
Originally, Fried Babelfish was powered by Babelfish and served as mini ad free version if their translator. But with this release, it might still carry a bit of the old Babelfish look, but it has been completely rewritten and is now powered by Google's translator.
Features
2 tabs - one for your language and one for a second language
a button to set the window to stay on top
Full source is included.
Planned Features
we are not entirely sure
Screenshots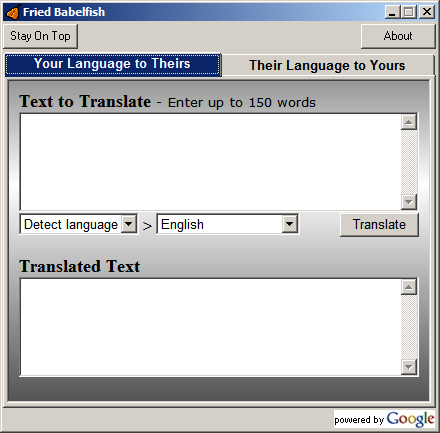 Usage
Installation
Just unzip and run. It will need access to the internet to fetch translations from Google, so you'll need to give it permission in your firewall.
Using the Application
select your 2 languages on the first tab, type in the text to be translated in the top box, click the translate button. use the 2nd tab for a 2nd language pair. Click the button on the top left to toggle between on top & normal.
Uninstallation
Just delete it.
Known Issues
Due to Google discontinuing their
translation API
, this application will stop working on December 1, 2011. (sorry, out of my control)