Description
The initial motivation for this plugin was to enable FARR to reuse the searches already available in one's local installation of Firefox -- those available via its Search Bar / Search Box. Firefox makes use of OpenSearch plugins to provide this functionality. OpenSearch plugins are used by Firefox, IE 7, and other apps to allow one to search various sites more conveniently and quickly. For those interested, there is more OpenSearch-related info at:
http://mycroft.mozdev.org/
http://www.opensearch.org/Home
As it stands now, the plugin has some level of support for the following browsers:
Firefox 3 (2 might work, but I didn't test)
IE7 (8 may end up working, but who knows?)
K-Meleon (not as customizable as the other two)
I haven't decided whether to continue developing this plugin at this point. Whether I continue may depend on the level of success I have with cleaning up the existing code
Screenshots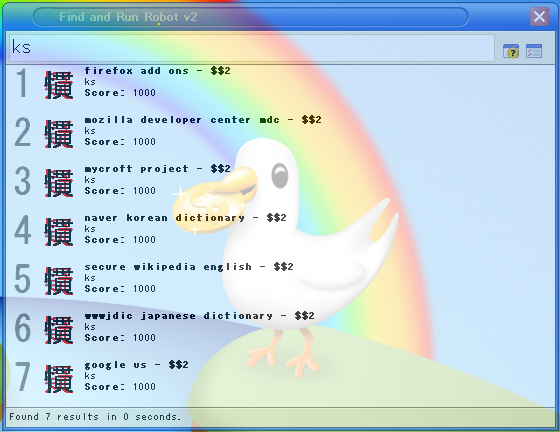 Usage
Installation
The installation flow is the same as other FARR plugins:
Unpack the archive (probably a zip file) into FARR's Plugins directory
If FARR is running already, tell it to reload plugins (e.g. via the 'goreload' alias)
If FARR is not running, start it up
Configuration may be necessary to indicate to the plugin where to look for browser-maintained searches. There is a detailed README.txt included in the plugin.
Using the Application
Bring up FARR.
Type:

ks

Amazon

:

little schemer

Choose one of the results (e.g. via numeric keypad).
The usage is modeled after the SokuGin Alias -- more details are available for that at its
forum thread
.
Uninstallation
One way that may work is:
Quit FARR
Find and delete the plugin's folder from FARR's Plugins directory