Introduction
Right now, what you're probably thinking is something along the lines of "What the heck is Toribash?"
Well, it's actually pretty hard to explain, but i shall try. Toribash is a turn-based fighting game, where
you control a ragdolls joints and set them to do whatever when you press space, or in case of on-line
play, when the time runs out.
One thing that really makes Toribash stand out among others isn't only that it's an indie game, but
that it's also entirely physics based, with no pre-rendered moves or anything. Everything is rendered
real-time. One should think that this would be enormously taxing for ones CPU, right? But this isn't
true. While the early versions of Toribash was very unoptimized, the new versions run incredibly
smooth, considering the amount of calculations done.
And you know how people say that the best things in the world are free, right? Well, guess what?
Toribash is free! Ever since version 3.0, Nabi Studios, the creators of the game, has removed the
20$ price tag from the game, and now they earn their money by charging for many kinds of optional
services.
Toribash even features its own little economy system, using a virtual currency called ToriCredits.
These ToriCredits (Or TC as they're usually called) can be used to buy many different things in
the ToriShop, like colors for your ragdoll (Or Tori), custom textures, colored trails and so on.
Normally your TC income is relatively low, giving you 5 TC for every fight you win on-line, but if
you're impatient, and not low on cash, you could buy a ToriBooster, which will increase your income
to as much as 10,000 TC per win! Needless to say, the better the ToriBooster, the more expensive
it is. One that will get you 50 TC per win is, of course, much cheaper than one that gives you 1,000.
To give you a little comparison, 1,000 TC is the equivalent of one US dollar. Some players have even
taken advantage of this, and started places where you can buy cheap TC from them!
But now I've yapped out a wall of text already, and this is only the introduction, so I'll try to confine
myself a bit in the following sections...
Pros
- Really innovative fighting system. Seriously, it's a one of a kind game!
- Well optimized physics.
- Very accurate physics. When it doesn't glitch, that is.
- Fun multiplayer.
- Hooking gameplay. Once you've started with that replay, you just can't stop!
- Exceptional modding capability. You'll be amazed at what people have done.
- Lua scripting possible. Makes for some interesting things.
- High level of customization of your Tori/ragdoll. (Joint colors, body part gradients, textures...)
- Ability to host own servers.
- Free of charge!
Cons
- Extremely sharp learning curve that has scared many off. Though there is a tutorial, it only shows
the bare bones stuff, the rest is up to you.
- Customizations can be rather pricey.
- Too many mid-game quitters on-line.
- Community can be rather hostile at times.
- Somewhat dodgy collision detection between players. (High speed attacks might phase through a limb entirely)
- Glitches in the physics. Though not many, and rarely does anything major, they can be disrupting.
Screenshots
(Sorry about the low quality)
You can kick Uke (The ragdoll you attack in singleplayer) in the face with a mighty leap...
Or you can tear him to pieces...
Or you can tear EACH OTHER to pieces in on-line multiplayer...
In any case, it all goes on like this.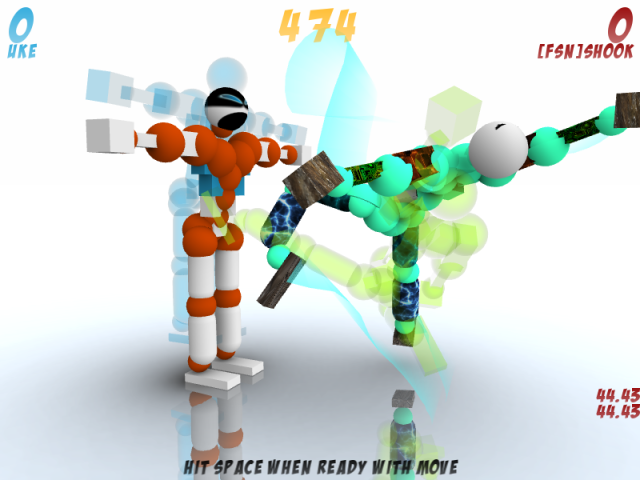 Rating
From a devout players point of view, I'd naturally rate Toribash 10/10, but you're probably
here for a critical rating rather than an opinionated rating, so it'll all add up to...
9/10
Despite all the cons, Toribash is still a brilliant game, and it's even free! So regardless of whether
you have a bloodthirsty monster inside you, or you're just a player who wants to have some fun,
Toribash is sure to please you!
You can go download it right here:
http://www.toribash.com/