As promised:
Basic Info
| | |
| --- | --- |
| App Name | FileBoss |
| App URL | http://theutilityfactory.com/ |
| App Version Reviewed | 2.002 |
| Test System Specs | Windows XP Pro SP2 |
| Supported OSes | Windows XP, Vista |
| Support Methods | Webform, e-mail, phone |
| Upgrade Policy | Not explicitly stated* |
| Trial Version Available? | Trial is available at http://theutilityfactory.com/download/download.htm. Time limited, but no limitations during that time. |
| Pricing Scheme | 49.99USD for Single-User license.** |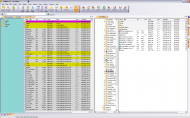 Intro:
FileBoss is a robust and full-featured file manager replacement for Windows. Some of the features include: multi-pane multi-tabbed file groups allow you to browse your files in many different ways. Advanced copy features allow you to copy files with robust error recovery so the copy does not fail because one file failed. FileBoss includes a powerful batch renaming function,
and the ability to touch files and manipulate attributes of many files at the same time. It has an advanced file find function that allows you to specify search definitions and save the searches in virtual folders that can automatically update when you open FileBoss again. This is a file manager literally chock-full of tools to let you manipulate files the way that you want to.
Who is this app designed for:
This application is designed for anyone that wants to more efficiently manage their files. The features are for the most part unobtrusive, so even the beginner can use this file manager as simply as they would use explorer.
The Good
The interface is very straightforward, and includes not many non-standard windows controls. Personally, I found the toolbar a bit heavy, but it is in the Office 2007 format, and I feel the same way about that suite of programs. The buttons on the toolbar are contextual, i.e. they change depending on the context of your focus; I didn't like the fact that they disappeared at times. But again, that is a subjective judgement. The interface is completely configurable as far as where things are, and the windows are dockable, and can be auto-hidden as needed.
It has a lot of features- and not useless ones, but things that I use a variety of utilities to do on a daily basis. It's like they packed the kitchen sink into the product! Searches with virtual folders to allow you to work with your search folders at any time.
The search was a lot faster than the windows search, and I do like that you can save these virtual folders.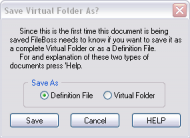 This screen shows the dialog presented when you save for the first time. You can save virtual folders as definitions (this has the disadvantage that it has to re-perform the search whenever you open FileBoss), or a complete virtual folder. I also like that the tree is completely traversable, and filters out files so that only the ones present in that part of the tree (including subfolders) are visible. You can also in the list view choose to show folders or not, and the folders will be colored differently.
You have to be aware that when saving these virtual folders, if they are open when FileBoss is closed, by default they will be open when you re-open FileBoss, resulting in a definite slowdown as the application is opened; none of the other open folders are shown until the search is complete.
Speaking of searches, FileBoss also has a drop down menu of saved searches, shown below.
Or you can define your own search parameters. There are quite a few already defined, but the search can be as easy or as complicated as you like.
Once you instigate a search, a progress dialog is shown; I like the manner in which it shows the pattern that is being searched for.
In my evaluation time, I could not discern how to add to this menu; the edit menu option only allowed you to edit the existing definitions, and this particular help topic did not work.
As opposed to a search, a filtering function is available only on live folders. If you click the filter button, the menu below is shown.
This filtering is pretty much instantaneous, and stays on until you turn it off again from the filter menu. I like that in this mode, a line is shown above the files, to let you know not only that the files are filtered, but what the filter is.
If you have a filtered window open, and click explore, the filter will be maintained in the new tab. Speaking of the explore button, it seems that some functionality is duplicated; the menu under the explore button brings up the exact same menu as the favorites button. I'm not sure if I'm missing something there, but it is a minor point in any case.
Another feature which I enjoyed was the fact that when you right click on an item in the file list, FileBoss doesn't assume that you want the FileBoss menu. So many applications assume this, and it drives me crazy; many applications add to the file menu, and to have to go through extra clicks to access these menus is annoying. FileBoss merely adds a menu option at the bottom of the standard
file menu, as shown below.
A few other features I wanted to touch on before going on are the Create Duplicate Files, File Touch, Backup, and File Rename features. All of these are useful enough to be separate applications on their own. But they are included here, and with the ability to modify how the file dates are shown to accommodate ages, modification date, and standard windows date formats, allow you a great degree of control over your files.
The needs improvement section
This is a very well put together application, and in this section, I'm really nit-picking. First, the interface is a little more candy-like than I'm used to. It uses a lot of the Office 2007 interface guidelines, which makes it a program that seems to need the whole screen. It doesn't, but unless I have it maximised, it doesn't seem I have enough real-estate. There are a *lot* of options and tools-so many that it's hard to get your head around it. Take for example the copy files dialog. The standard dialog is below:
If you click the advanced button, this increases to what you see below.
Then you click the global options button, which gives you
another
dialog of options.
I don't know of another way to do this, and the options seem well laid out. It's just a bit overwhelming at times, and I come from using Directory Opus.
Continuing, as I stated above, I haven't quite figured out how to use the stored search function; my stored searches don't appear there, and when I edit the menu, there's only options to delete the searches and the help for that particular topic isn't linked. But the biggest issues I have, ones that make me unsure of whether it could be my full time file manager replacement (and they could be easily corrected, but I haven't found an option for them) are 1) that the copy/move operations don't default your destination path to the other pane or allow you to just copy without going through the dialog, and 2) when selected, only the filenames are selected, the rest of the file details are not selected in a complete row fashion.
Something that I have also grown used to is having an FTP client in my file manager. There is not one here- not really a shortcoming of the application, it's just one way that it does not dovetail with how I've grown to use file managers.
How does it compare to similar apps
I've used several File Managers: Xplorer2, XYplorer, Explorer with extensions, and many more that have not made an impression on me the way that these have. Directory Opus is my file manager of choice. This comes quite close to unseating Directory Opus as my file manager of choice. The ease of use, but obvious power, along with the plethora of tools included really give it a leg up
on the competition.
Conclusions
As I said above, this comes quite close to unseating Directory Opus as my file manager of choice. I will definitely use it to replace many of the tools I have to batch rename, search for files, touch files, and general file management. But for day to day use, Directory Opus is light enough for my use and does what I need it to. This could just be a bias since I've used Directory Opus for so long, but only time will tell. I would definitely recommend it for a look for anyone that is looking for a powerful file manager and general toolbox. It's a definite value, and the price is not out of line with similar file manager alternatives, let alone the extra toolset that this gives you.
Links to other reviews of this application
Though I had never heard of this application before it appeared on Bits Du Jour, there are several reviews.
Shareware Junkies lists it on can't do without it software.
http://www.sharewarejunkies.com/without.htm
http://www.sharewarejunki...s.com/05zwd8/fileboss.htm
Tucows gives it 4 cows
http://www.tucows.com/preview/416069
* After I left the review on Bits, Dexter Bell from The Utility Factory responded with this to say about upgrades:
Quote
The review wondered about upgrade policies. The all minor (i.e. 2.X) are free. You are upgrade protected for all major upgrades for at least one year. The upgrade price to version 2.0 for all previous customers was a nice, big, fat zero. There will be a small charge for version 3.0 but that is over a year away and compared to other programs it won't be much.

** Plain text license
Quote

Single-User License
The single-user license allows you to install FileBoss on one computer. You may install FileBoss on two computers as long as they are both used by you and will not be used by others. For example you can install FileBoss on your computer at work and your computer at home or you could install FileBoss on your main computer and your laptop computer. If you are using FileBoss at your home and not at your office you may install FileBoss on up to five computers at that single-family residence. (If you wish to use FileBoss on your office computer and on more than one computer at home then you
will need two licenses, one for your home and one for your office.)

Multiple-User Licenses
Multiple-user licenses allow you to install FileBoss on the number of computers the license is for or for the number of people who will be using those computers, whichever is less. For example if you
have five computers shared by ten people then you only need a five user license. If you have five people that share 10 computers and only those five people use those computers then you still only need a five-user license. FileBoss is not licensed on a concurrent user basis. Concurrent user licensing is where the number of required licenses is calculated by the maximum number of user that
will be using a program at the same time.

More comments by Dexter Bell:
Quote
The comment about the candy-like interface is valid for some. Many thought our previous interface to sour. :-) The good news is that you can change both the general style and the that of the tool bars to take some of the sweetness out of it.
As for the other two points. We are working on 'Copy Again' (actually any action again) logic that will just use the previous parameters. It should be out in about 2 months. In the mean time you can configure the Drag & Drop copy engine to act with the settings you want and then use Drag & Drop for simple copy operations (FileBoss Drag & Drop is a lot more sophisticated than Windows Explorer. (See:
www.theutilityfactory.com/summaries/drag-and-drop.htm
for more and for how to set it up see:
www.theutilityfactory.com/online_help/index.html?hidd_options_advanced_2.htm
)
edited: removed link to download.com review and updated prices to USD. Thanks for the corrections.