Describing Exact Audio Copy, its [German!] author, Andre Wiethoff, writes on his website
:
I wrote this software because I am fed up with other audio grabbers. I always had to listen to every grabbed wave because other audio grabbers only do jitter correction while CD-ROM drives reading scratched CDs often produce distortions. Listening to every wave is a waste of time. So in March I decided to write my own audio grabber, mainly for my friends and my personal use. That said, if you don't like this software — don't use it! I don't want to make any profit from it. I just want to use (and share) the best grabber ever programmed (in my eyes this is the most exact grabber). Most important for me is getting feedback from users.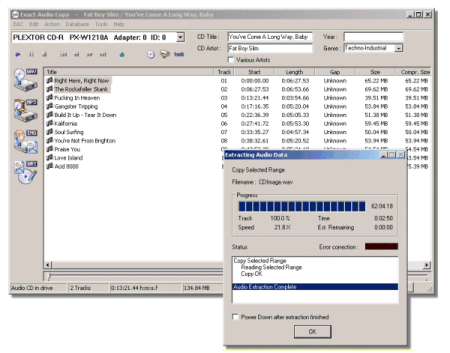 In a nod to
Ed Bott
who corrected another author on lossless audio formats, he writes:
In fact, every time you rip a CD using a consumer-grade tool, you're probably getting less-than-perfect copies. If you're just making copies for your portable music player, this might be no big deal, but if you're an audiophile exchanging copies of live performances, it's hugely important.... The solution? Try
Exact Audio Copy
. This postcard-ware program is an audiophile's dream. Used in secure mode, it makes copies that are as close to perfect as you can get.
Exact Audio Copy
is donationware (or postcardware) and well worth exploring if you spend a lot of time converting and sharing audio collections. Check it out, and if you have used it, tell us what you like or don't like about it!