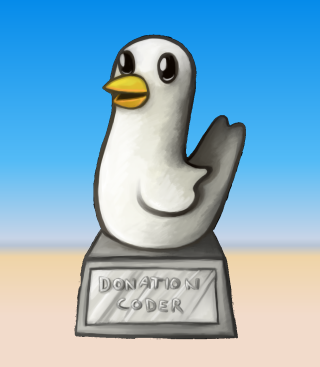 ---
gHacks on DonationCoder.com

The Donation Coder website and community is special... because it is taking an approach that most other sites on the Internet does not take. Instead of relying on online advertisement to fund their projects they rely on donations from their community. Those donations are put into good use to pay for the server costs, websites and also some of the regular goodies that they throw at their users and members.

There are quite a few reasons why I like the Donation Coder. They do produce some fantastic programs that I use on a daily basis. But the software is only one aspect of the website. If you ever participated in their forum you might have realized how helpful they are. Just post an idea about a new software program and watch what happens. It is not seldom that you get a working piece of code after a few hours that does exactly what you wanted.

I personally have not donated before (shame on me) and I figured that I should do so before even starting this article. I suggest you do the same if you like Donation Coder software and have a few bucks to spare. It's money well spend. Rock on!
THE 2006 DONATIONCODER.COM ACCESSIBILITY GAME PROGRAMMING CONTEST RESULTS
Congratulations!
First off, our sincere congratulations to all the winners! Accessibility presents a huge challenge to a game designer, and we had quite an amazing diversity of genres from the finalists, and innovation in so many different areas -- from storyline/writing to game play variety. There is a lot of room for improvement here, and the authors may have discovered that making an accessible game is harder than it sounds, especially for programmers who have never considered the issue of accessibility. But the spirit and creativity behind each of the games was wonderful and the IGDA Game Accessibility SIG will be happy to work with any of the authors who are interested in taking their games to the next level and making them even more accessible. - Michelle Hinn, Chair of the IGDA's Game Accessibility SIG.
About The Prizes
First of all we have to say a huge thank you to the sponsors of this unusual contest. There are many excellent game development websites, and we appreciate that the sponsors of this contest were willing to support the non-traditional focus of this contest and bring a little light to the issue of accessible gaming. Keeping with the spirit of this contest we asked each of the entrants to rate their preferred prizes and we tried extremely hard to find a way to get everyone who entered something they would be happy with - we hope that we've succeeded in that. We've highlighted one game as the top contest winner, and then presented the rest of the collection in no particular order.
Download and Try For Yourself!
On behalf of the authors we invite you to download and play these games. If you enjoy them, please consider making a small donation to the authors to support their continued development! Your donations make a difference.